Keeping track of what open source licenses you have in your software can be a hassle – but unfortunately it's pretty much necessary. Debricked makes it easy to see which licenses you have, what family they belong to and analyse risk levels.
Recently, we also released the ability to export an excel file where you get a complete overview of your license coverage – perfect for sending to all the stakeholders you need to keep updated and happy. Let's have a look at how it's done!
Finally it's possible to get an export of all licenses in the repositories that you've integrated with Debricked. Yay!
It's a great way to do reporting without having to log into the UI; just send the report via email and avoid friction.
How to export a license report with Debricked
Start by logging into your Debricked account (it's a great way to start most things, isn't it). Make sure that you have integrated any repositories so that there's data in the account.
Next, navigate to the license view where you can se all licenses that apply to your account.

On your right hand side you'll find the export button. Click it!

Click the button to start generating a report, which will be sent to your email when done. This can take a few minutes if your account has a lot of components.
By clicking the button in the license view, a report on all licenses in your account with repositories and license families will be generated.
Every license gets its own tab with a link to the repository in which it lives, along with which dependencies it affects.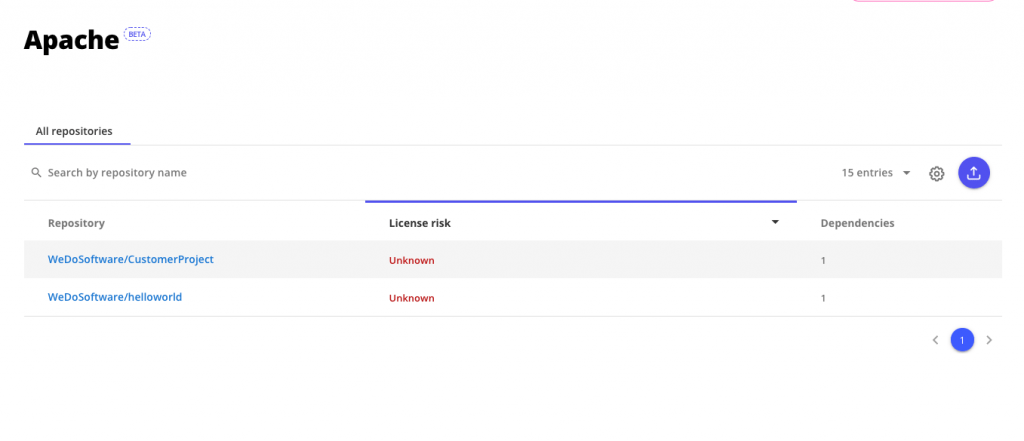 If you, on the other hand, click the button when viewing a specific license, you'll get a report of all the repositories and dependencies affected by that license.
All our reports can be opened in Google sheets, convenient huh?
We're always trying to improve our tool and frequently release new features and updates. Stay tuned for more!

Haven't tried Debricked out yet? Create a free account today!